per person
3.5-hour cruise on Sydney Harbour
Seafood and carvery buffet lunch
Aussie desserts, coffee and tea
Fully licensed bar - packages available
Live harbour commentary
Get up-close to the annual Ferrython
See the Australia Day Harbour Parade
Tall ships race, 21-gun salute and more
Australia Day Lunch Cruise
Experience the Ferrython and Australia Day parades on Sydney Harbour
Join us aboard the timeless MV Vagabond Star as we celebrate our diverse and dynamic nation the only way we know how! Three and a half glorious hours on stunning Sydney Harbour with a delicious lunch and fantastic service as you take in all the excitement of the annual harbour events.
Enjoy fresh seafood and a selection of carveries from the buffet while your captain fills you in with live commentary as we get into position for for the day's events. Ready yourself with a drink from the bar and grab a seat by a window or on the deck as the Sydney Ferries get in line for the annual Ferrython, racing for first place under our iconic bridge. Brace yourself for the 21-gun 'Salute to Australia', watch in awe of the Tug and Yacht Ballet and the enjoy the spectacular colours of the Australia Day Harbour Parade with boats of all shapes and sizes dressed in flags, banners, inflatable kangaroos and every colour under the sun.
With Vagabond's range of adult, child, concession and family tickets, we invite you and the whole clan to share in the tradition, innovation and excitement that is Australia Day on spectacular Sydney Harbour.
Cruise inclusions

3.5-hour cruise on spectacular Sydney Harbour

Seafood & carvery buffet lunch
See the Ferrython, 21-Gun Salute, Tug & Yacht Ballet & Australia Day Harbour Parade

Fully licensed bar - bar packages available
Freshly percolated coffee & tea

See all the sights from spacious outdoor decks
Allocated indoor seated dining
Contact Us CTA - Yellow Background
Testimonials

Took the Australia Day Lunch cruise on the Vagabond Star and had a terrific time. We had a pleasant 3 hours pottering up and down the harbour, chasing the ferries and watching all the activities on the water. The buffet lunch was really tasty and plentiful with a variety of hot and cold meats salads prawns and oysters. Staff and crew all friendly and efficient. Really enjoyed it!


We absolutely loved our Australia Day lunch cruise with Vagabond! Three and half hour cruise with a full buffet lunch was delicious and fantastic value. Staff were friendly and helpful. Will certainly be back again!

Cruise Feature Details
Australia Day Lunch Menu
Fresh and cooked seafood
Freshly shucked Sydney rock oysters served natural

(gf)

Tiger king prawns served with seafood sauce

(gf)
Carvery and hot dishes
Freshly carved hot roast beef with horseradish, mustard, and traditional gravy 

(gf)

Slow roast lamb with garlic and rosemary

(gf)

Oven roasted middle-eastern spiced chicken
Baby potatoes roasted in extra virgin olive oil, garlic, rosemary and rock salt

(v) (gf)

Medley of Mediterranean roast vegetables 

(gf) (v)

Penne with button mushroom and white wine cream sauce, fresh herbs and parmesan cheese

(v)
Cold selection
Freshly tossed garden salad served with French and Italian vinaigrette

(v) (gf)

Basil pesto macaroni with roasted pine nuts

(v)

Traditional Greek salad with feta, onion and Kalamata olives

(v) (gf)

Rocket salad with walnuts, shaved parmagiano and balsamic vinaigrette

(v)

Classic coleslaw

(v)

Shaved leg of ham

(gf)

Crusty dinner rolls

(v)
Dessert
Lamingtons and pavlova

 

(v)

Assortment of cakes

(v)

Selection of seasonal fresh fruit

 

(gf) (v)

Coffee and tea
GF | Gluten Free  V | Vegetarian
Sample menu - items subject to change without notice
Food allergy statement
Please be aware that our kitchens process foods containing eggs, dairy, gluten, seafood, nuts, sesame seeds and capsicum. Whist measures are taken to avoid cross contamination, we can not guarantee a total absence of these products from any of our dishes.  Vagabond Cruises does not accept liability for any adverse reactions due to allergy or intolerance from  food consumed on board.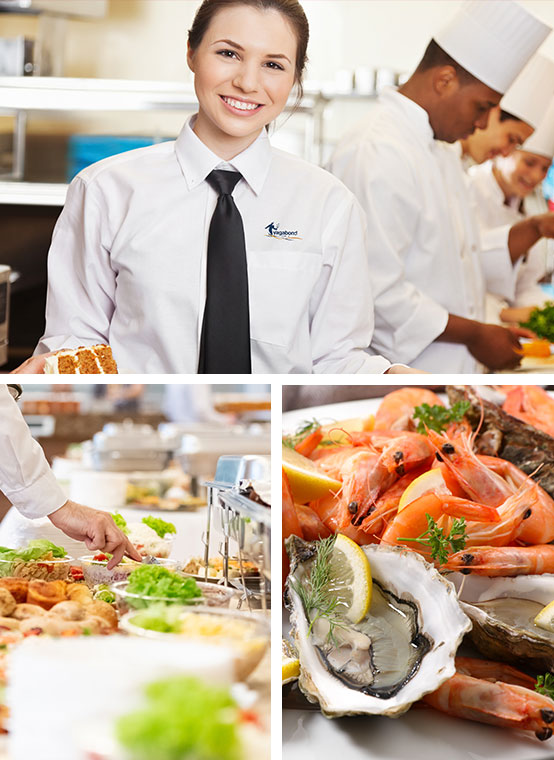 ---
ADDITIONAL BAR PACKAGES
BOPEN BAR PACKAGES & OTHER UPGRADES
All our vessels offer fully licensed bars on board with drinks available on a cash bar basis. The following bar upgrade packages are also available with a pre-booking. NOTE: All members of a group booking must be on the same bar package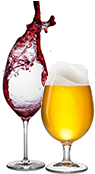 Vagabond Package
HOUSE BEER, WINE, SOFT DRINKS & JUICES
$35
per person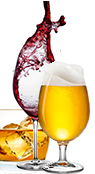 Executive Package
EXTENDED BEER COLLECTIONS, SPIRITS & LIQUORS, PRE-MIXES, WINE, SOFT DRINKS & JUICES
$45
per person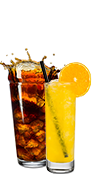 Cadet Package
A selection of soft drinks & juices
$14
per person
RSA Notice: Vagabond Cruises operates under the laws and guidelines of Responsible Service of Alcohol (RSA). In the interest of harm minimisation, our staff and management reserve the right to refuse entry onto a vessel or service of alcohol to any person who is under 18 years of age or not able to produce acceptable proof of age, who may appear to be intoxicated or deemed to be behaving in a disorderly or disruptive manner.
RSA practices and the right to refuse service also applies to pre-paid packages.
( Ticket Price items are added/removed from "Date Range Pricing" tab.)
ticket price guide
Early Bird Rates
Offer until Dec 31 or until sold out
| | |
| --- | --- |
| Adult | $100 |
| Concession | $90 |
| Child (5-14 years) | $70 |
| Family (2 adult, 2 child) | $320 |
Cruise Rates
From Jan 1 or when early bird sells out
| | |
| --- | --- |
| Adult | $110 |
| Concession | $100 |
| Child (5-14 years) | $80 |
| Family (2 adult, 2 child) | $360 |
-
-
DEPARTURE INFORMATION
Cruise date: Tuesday, 26th January 2021 
Departure location: To be confirmed - Bookings essential
TUESDAY
10:00AM - 1:30PM
Subject to availability
The information provided here is a guide and is subject to change without notice. Please refer to your boarding pass for accurate departure information. Please arrive 15 mins prior to cruise time for boarding.
As part of our commitment to providing a timely service, we cannot wait for late arrivals. Tickets are non-refundable and non-transferable for no-shows or late arrivals.
Contact Us CTA - Blue Background